reprinted from
Kalistani Beacon
President Bjorksdattir to visit Trigunia


Comprehensive Agenda planned
Kaliburg, Ananto District
June 2nd, 3925
President Bjorksdattir addresses the Nation ahead of her state Visit to Trigunia
Bjorksdattir is the first sitting Head of State to visit a foreign Nation in many centuries
The President of Kalistan,
Elga
Bjorksdattir-Carrangus, issued the following statement today.
"Friends and Countrymen, I bid you all a wonderful day. Today, the Foreign Minister, Eduardo Gallegos and I depart Kalistan to return a visit to the Tsar of the Empire of Trigunia. This will be the first opportunity for us to visit a foreign country in centuries. Trigunia has long held a fond place in the history of the Socialist Party. When we were decimated overseas, it was Trigunian forces which gave the remnants of our expeditionary force safe haven until we could escape. The Trigunian military has both hosted, and were hosted by elements of that very same Militia, in official military training deployments. And it was less than 1 year ago that our nation welcomed the Tsar of Trigunia to our city. The new relationship with the Empire of Trigunia is a triumph of foreign policy as well as a triumph for socialism in the world.

"Now it is our turn to visit them. The visit will not be all smiles and light, however. It has recently come to the attention of our government that the Trigunian Empire is now the home of anti-gay and lesbian legislation. Their discrimination against a segment of their population on the grounds of who they love is unconscionable in Kalistan, and of course, discrimination in all of its forms must not stand. We will express our displeasure with their recent laws in no uncertain terms when we speak with the Tsar. While we concur that sovereign nations may theoretically pass whatever laws they like, without the input of another nation, perhaps they will be willing to listen to friends, and dare I say, Comrades, who have worked over these long years to build a close and warm relationship between our two states. It is my hope that the Tsar will be willing to listen to reason and see a way to overturn this discriminatory act in a method which both acknowledges Trigunia's legislative process, and acknowledges that discrimination against portions of their population is not something which should ever be allowed to happen, let alone at the hands of lawmakers.

"Positively, we must say that there are many things that Kalistan and Trigunia can work on. A closer partnership in Kalistan's nationalized petroleum industry, KALNAPECO will be offered, whereby the Trigunian economy stands to benefit from increased oil output. We also would like to raise the issue of continued military and cultural exchange between our two nations. We were initially approached on the subject of base leasing by the Trigunian military- it would seem that their intentions may still be on the table, but this is something we will ascertain when we speak with the Tsar. Finally, there is the issue of members of the Society of Brethren in Trigunia. This year, Bretheren in Kalistan numbered more than 15,000. I am being sent, as a member of that Society, to make contact with Trigunian Brethren, for the purposes of discovering whether they are interested in uniting with us in Faith and Practice. On this matter, I do not travel as a Representative of Kalistan or the head of its state, but in the capacity of a Seeker of the Truth, guided by a sense of unity with fellow Brethren across the planet. A connection with Trigunian Brethren will assist us in the creation of a more unified Faith and Practice, and will help us to expand our own efforts at building a lasting movement in the Search for the Truth.

"When we return from our visit, which is not expected to last longer than 2 weeks at the most, the Socialist Party and I are scheduled to meet concerning the upcoming election. The Socialist Party of Kalistan has asked me to announce at this time that they will hold a National Organizing Convention, designed to regain the majority in the Assembly, which is open to all Socialists in Kalistan. The Party has asked me to speak, and during the convention, I will provide a full record of my visit to Trigunia. May you all be Blessed, and keep me and the Foreign Minister in your thoughts as we make the long journey to Trigunia.
With this, the President and the Foreign Minister and their staff boarded the Presidential Jet, bound for Trigunia and the first major State visit by a sitting head of State in Kalistan in centuries.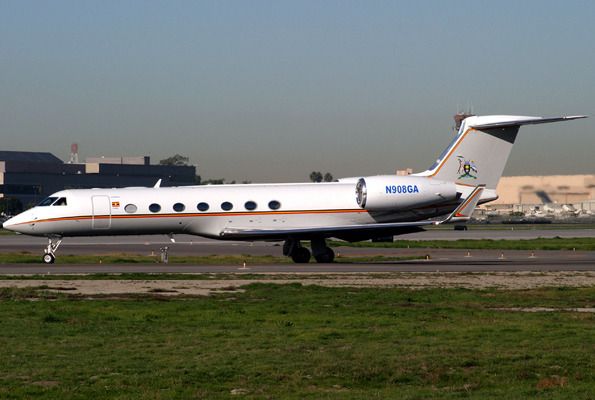 The Presidential Jet Leaves Kaliburg International Airport
The Jet will be escorted by elements of the Kalistani Airforce into Trigunian Airspace