Interview with Amatia Scipio, new Consul of Selucia
After regaining power, the Consul gives her opinion on the current Selucian issues.
______________________________________________________________________________________
Consul Amatia Scipio giving her inaugural speech at the Senate.
Amatia Scipio has become after the 4453 Selucian elections the new Consul of the nation, defeating Cyprianus Tiburtius Numitor. The Leader of In Marea-Civis Sinistram, who already occupied the office in the period 4441-4445, is aligned with the most progressist faction of the party and with the IUVIM (Iuventus In Marea), and has accepted to give an interview with us.
Interviewer: Thank you for receiving us.
A. Scipio: The pleasure is mine

I: Let's go directly to the matter: Is your victory a sign that politics in the nation are increasingly scoring to the extremes of the political spectrum?
A.S: I wouldn't say so. There has been a lot said about me and my political affiliations and ideology, and I've never denied it. I was a proud member of the IUVIM, and now I'm a proud member of In Marea. During the political campaign prior to the 4453 Selucian elections, I clearly stated my priorities if I was elected Consul: ecology, feminism and equality. And voters decided to choose me over Mr. Numitor. Voters knew my ideas and still chose me, so that's all.

I: Yes, but by choosing you instead of Mr. Numitor, haven't they elected a radical person to lead the Consulship of the nation?
A.S: [laughs] And who says that? I'm a radical for the conservative sectors of the society, because that is how democracy, journalism and political ideology works. But, to set an example, I will not be in the streets burning churches, or banning any ideology that differs from my own. That's being radical. To protest against inequality, salary breach, racism, discrimination, and to do so by assisting to manifestations is not "being radical". It's common sense. And I'm proud of my past when I assisted to many protests against discrimination and inequality. I have nothing to hide.

I: Prior to the elections, you promised that if ever elected, you would treat the issue of Deltaria. What are your opinions and future actions now that you are in a position of power?
A.S: I already said it, and I reaffirm my opinion, that is the same of all the high figures of In Marea: Deltaria, while being a unipartidist dictatorship, cannot be tolerated by the international community. That does not mean that we will accept either another Thallerist dictatorship in the nation. I can already imagine the members of Factio Republicana coming to attack me and my party for saying that, claiming that our "liberal ideas" are interfering with the political system of a democratic nation. But first of all, and let's say it loud and clear, because Factio Republicana has a really wrong idea of us: we are not "liberals". We are socialdemocrats. It is very different. And we stand for the rights of everyone, without caring about their political ideology, as long as it respect the basic principles of humanity. And if we have to protest against any government or person that does not respect that, we will do it. If they want to think it is an interference, let them do so. It is better to stand for the rights of everyone in the international community than to support a dictatorship under the shield of "respecting democracy in its different ways".

I: So what are going to be your actions now, that the Thallerist party has returned to Deltaria, and that Princeps Senatus Numitor has demanded Mrs. Galanou, Praetor of Insularia, and all of her government, for the blockade she stablished to Deltarian ships in the region?
A.S: The conflict between the two heads of the executive power starts now. Let's be clear: As long as I'm one of the executive heads, and the situation in Deltaria remains the same, no matter with a socialist dictatorship or a Thaller dictatorship, I will say the same: Deltaria is not welcome in Selucia. I will pass my words to Mrs. Bousaid, and let's see how this ends.

I: So this is a clear defy to the decisions of the government.
A.S: As said, Selucia has two heads of the executive power. And I'm one of them. Ministers have decisions over policies of our nation, but on the international ground, both Mrs. Bousaid and myself have the same value and competences. And I will fight until the end for the rights of the Deltarian people.

I: And with the issue of Mrs. Galanou?
A.S: Obviously I'm affected that, because someone has decided to stand against the violation of human rights, as Mrs. Galanou has done as much as she could, she has been brought to Court. History will remember the actions of Mr. Numitor, and surely the people of Insularia will remember it too. But I trust the experience and values of the members of the Supreme Court and the strenght of our judicial system, so we will have to wait until the end to see further.

I: What more do you plan to do during this legislature?
A.S: I'm going to try to visit as much Majatran nations as I can. Governments of Factio Republicana has broken many ties with true democracies, while aligning ourselves with dictatorships and undemocratic regimes, and violating our sacred neutrality. I'll try to repair it.

I: Thanks for coming here.
Protests increase in Insularia after regional government is called to Court
Thousands of people fill the streets with cries of "oppresion" and "fascism is back"
______________________________________________________________________________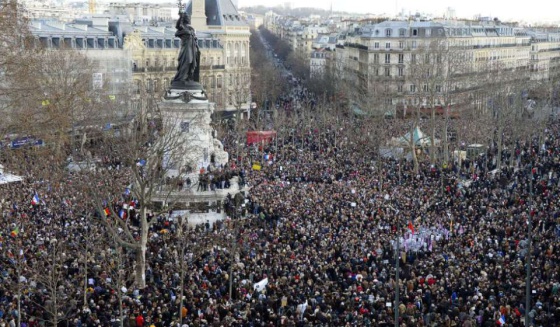 Main square in Victoria, Insularia, full of protesters
The decision of the Princeps Senatus Tiburtius Numitor to take the government of Insularia before the Supreme Court of Selucia for an alleged crime of usurpation of functions by prohibiting the entry and refueling of ships from or to Deltaria, after accusing the nation of "undemocratic "because of its one-party policy, today it has led to massive concentrations in many parts of the region, both in large cities and small inland towns, and threatens to blow up all the bridges between the region, which has long been a of a majority that cries for greater autonomy or even total independence, and the central government.
Pruvius Claudio, general director of the "Real Democracy Now" collective, has described the latest actions of the central government as a "provocation" and has accused them of hiding their fascism under a layer of pseudo-democracy.
"That a government and a party consider themselves democrats, while supporting a nation that is not, under the excuse of not interfering in the foreign policy of those countries, is a shame, it does not represent us, Insularia has always defended and will defend the rights human rights, and political rights, and will protest against them. "
Valcia Fulmina, a retiree of 73 years, has attended a demonstration of this type for the first time because, according to her, "the population is already fed up".
"For a long time Selucia's successive conservative governments have gone to attack the traditionally more progressive regions, but we have always stood firm. I have never been in favor of confronting a democratically elected government in this way, but there comes a time when if you really believe in freedom, you have to do it. I am here protesting the support that Factio Republicana has given to Deltaria, but above all I have come here with my daughter and my nephews because it seems indecent that, while Factio Republicana asks that the policies of Deltaria are respected, attacks and denounces another democratically elected government, in this case the one of Insularia, for actions that do not affect the nation of Selucia as a whole. "
"We trust justice" said the regional government spokesman meanwhile
"the actions that the government of Insularia has carried out are within the legal framework of border and port management, and in no way affect the nation of Selucia since there is four other regions where, if the government wishes, they can dock those ships. "
Faustinus Deuco has proposed an example:
"What would it look like to Factio Republicana if, for example, In Marea-Civis Sinistram decided, when it came to power, to ban any other political party, including them, and force everyone to choose them? Would it seem like a dictatorship, or would they accept it without further ado? It seems incredible that in these times, even the judicial branch accepts accusations for defending human rights. "
Everything remains to be seen, but there are already new calls to concentrations until the outcome of the ruling is announced, which depending on what it is, can increase to an extent never seen the tension in Insularia with the rest of the nation.