"Mos maiorum is a dynamic and evolving tradition"
Interview with Republican Party co-founder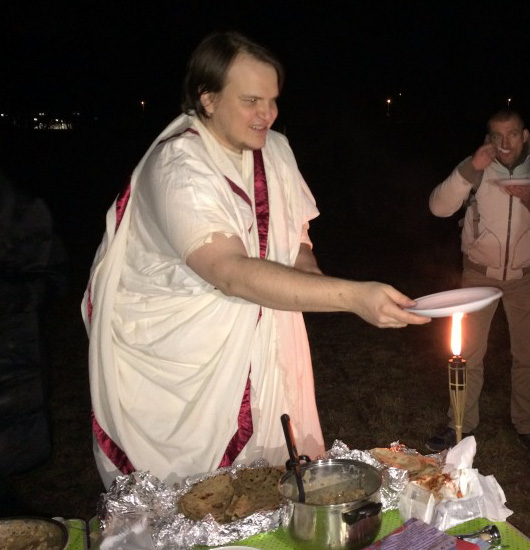 Decimus Nasennius Valens serving food at a homeless shelter in 4359
February 4370 - Our correspondent Marcus Severinus has conducted an interview with Decimus Nasennius Valens, one of the two chairmen of the newly founded and controversial
Republican Party
. Below is a partial transcript of that interview, edited lightly for comprehension.
Marcus Severinus:

You've recently founded a political party with your long-time associate Postumus Oppidius Hortensius. What made you decide to join politics and form your own party?

Decimus Nasennius Valens:

I used to be a card-carrying member of [In Marea - Civis Sinistra], which I joined way back in 4354. I joined the party because I believed that it's possible to have a more caring and compassionate system, one that cares about the little guy. But I think In Marea, for all their good intentions, has fallen out of touch with the day-to-day struggles of Selucians. The party is dominated by college-educated middle class folk, mostly irreligious, and they don't really know anything about the hardships the working class and farmers face daily. That makes them unable to see the appeal that monarchist or far-right movements like the [Nationalist] Legion have among these people. So me and my friend Postumus [Oppidius Hortensius] decided to do something about it and found a movement that represents the common folk.

Marcus Severinus:

Was this the reason why you campaigned for

Selexit

?

Decimus Nasennius Valens:

Yeah, I used to be in the IUVIM [Iuventas In Marea] and when we realized the [Majatran] Alliance was broken and expensive, we started this campaign for a referendum. That never really got anywhere, since the two parties at the time didn't care what the common folk want. But that's also when I met Postumus, who was organizing [the Pagan] community for Selexit.

Marcus Severinus:

You've been talking a lot about

mos maiorum

, about traditions and values. Do you consider yourself a traditionalist, and if so, do you want to abolish all the democratic reforms for the past few centuries?

Decimus Nasennius Valens:

Mos maiorum

is a dynamic and evolving tradition. There's no checklist of what counts as part of it and what's an innovation, Selucia has moved a lot from the old days. We definitely don't want to turn the clock back to the 18th century or whatever, but we also want to preserve what's good from Selucian traditions.

Marcus Severinus:

Your party's

manifesto

has been rather critical of what you seem to think is too much of an emphasis on tolerance and diversity. But isn't the history of defending the rights of women, LGBTQ people, or ethnic minorities a part of Selucian tradition and so an element of

mos maiorum

?

Decimus Nasennius Valens:

Absolutely, but I'd say that not all parts of Selucian history are good by definition. We've had strong Republican regimes, which we want to emulate, but we've also had fascist or theocratic dictatorships, and, yes, excessively liberal regimes. We don't want to pick and choose what counts as tradition and what does not, but at the same time we should be discerning and promote what is good in our history while giving proper context to our more shameful moments.

Marcus Severinus:

So you consider Selucia's promotion of human rights as something to be ashamed of?

Decimus Nasennius Valens:

Not at all. Anyone who's willing to die for the Republic is alright in my book. I don't care if they're Hosian or Pagan, straight or gay, male or female. If they are prepared to give their life for the common good, that is something that should be encouraged and rewarded. But at the same time, this whole obsession with diversity stopped being a Republican commitment to individual rights and became more of a system where society rewards you just for being different, just for being born. I don't think that's right, or fair for that matter.

Marcus Severinus:

Speaking of individual rights, your party recently promoted this idea of "Republican motherhood", that women have a duty to make many Republican children. On the other hand you proclaim yourself a defender of gender equality. Isn't that a contradiction?

Decimus Nasennius Valens:

Not quite. Unlike the feminists in IMCS we don't see women's rights through a privileged middle class lens. While we recognize that discrimination against women in politics and at the workplace is a serious and ongoing issue, we also know that many women choose to sacrifice their careers in order to raise their children, and that should be rewarded. What the left doesn't understand is that not all women actually want the same things. Those that seek public office or military service, or indeed a productive career are heroines of the Republic. But those that instead choose to focus on the domestic sphere, that marry at an early age and don't want a college degree, also perform a valuable public service for the Republic. We think Selucia should do more to support these women and their families.

Marcus Severinus:

You've been talking a lot about piety, and yet you've been criticizing the [Nationalist] Legion as theocratic. What do you understand by piety, and how is it any different from the Legion's policies?

Decimus Nasennius Valens:

To be perfectly honest, I'm a little bit of a "born-again" Aurorian. I come from a non-religious family. They weren't exactly atheists, but not really church-going Katub-thumping Hosians either. In high-school I discovered Eliyahu and became a bit more "pious" than your ordinary middle-class Selucian. But my biggest religious experience came after I found

Saint Angelicus

, and because of him I learned the value of charity. In the Church we have this thing called a voluntary social year, a kind of volunteering where you go out and do social work and charity for a year. Right out of high-school I signed up for my social year with

Caritas Seluciana

and volunteered at a homeless shelter near Victoria for a while. That's where I really got to see what poor Selucians really are like, and how much we misunderstand them. So yeah I think piety is definitely a force for good. But as I learned from Saint Angelicus, the values of the Annunciation can be found in other faiths, and the saint himself was a "brother of all", to put it in his words. So I think that the Legion's whole mandatory Aurorianism business is a perversion of the Annunciation and the teachings of the Church.

Marcus Severinus:

Interesting that you bring up Church teachings, since you repeatedly proposed to remove voting rights for practically most Selucian citizens. Wouldn't that go against the principles of equality you claim to follow, and wouldn't a system of second-class citizenship be counter to the Church's proclamation of the equal dignity of all persons?

Decimus Nasennius Valens:

Equal dignity doesn't mean we should all have equal rights. What we're proposing is a system of full equality under the rule of law for all citizens, but where the right to participate in national politics belongs to those that commit themselves to the common good. It's a demanding criterion, sure, but what we want is good and engaged citizens. If restricting the right to vote is a good way to have that, I say restrict away.

Marcus Severinus:

Recently the Prince of Pontesi not so subtly

endorsed

your party. Doesn't it concern you that the Republican Party is supported by a foreign monarch, and the head of a brutal homophobic and Ahmadiphobic regime at that?

Decimus Nasennius Valens:

Look, I didn't ask for anyone's endorsement other than that of the Selucian voters. But if His Serene Highness likes our Party and its principles, we're not going to stop him. I'm happy to hear we have friends across the Strait, and hope the new Republic will have many more friends.

Marcus Severinus:

And lastly, I'm afraid to ask, but... what's with the toga?

Decimus Nasennius Valens:

[Laughs] You don't see these every day now, do you? I just feel more comfortable in a toga, it's cosy and is better suited for our equatorial climate. I'm not planning on making togas mandatory, if that's what you're asking. But one has to appreciate the wisdom of the ancients who came up with this really comfy dress.