Re: Imperium de Selucia Daily
Posted:
Sat Apr 14, 2018 4:20 pm
BREAKING
Ariadna Pragmata elected as new Supreme Judge of Selucia
The candidate has received the unanimous support of all 6 judges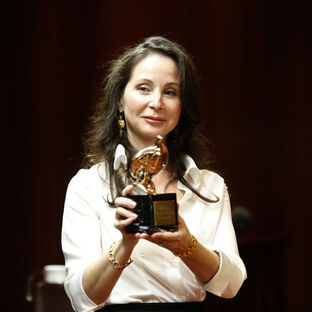 New Superior Iudicum Ariadna Pragmata, receiving in 4375 the Selucian Prize for Services to the Nation
Members of the Selucian Court have spoken and chosen its new member. After the failure of Genzius Tuccius, the candidate proposed by Factio Republicana and who received the support of Denique Vidimus Lucem and In Marea-Civis Sinistram, but was opposed by Legionem Nationis, Article 99 was activated and the duty was passed to the members of the highest judicial institution to choose their newest member. The event, broadcasted by national TV, is a major event each time a new judge is selected, and usually gets the highest ratings for a non-sport programme in the nation.
It has not been an easy decision, and as you know we hate to be in the public eye, but we have finally made our decision. Iudex Pragmata is a very good choice, and she has received the support from all the members of the Court. She now has to be accepted by the Caesar of Selucia, but it is a mere formalism and she will join us soon.
has said Megadorus Pertinax, Magni Iudex.
When asked about why they did not choose Genzius Tuccius as their new member, he answered:
While we do not think Mr. Tuccius is a bad candidate at all, we have to understand that the Senate has voted, and it has voted against it. Whether we like it or not, rules are stablished about how our members are chosen and unless they are changed, he was out of the run. Therefore, what image would we give if we decided to choose a member that was previously rejected by the chamber that represents the Selucian people? If Mr. Tuccius is offered sometime soon again the option to join us and he passes the Senate, or if another candidate is refused by the Senate, we would strongly consider him to join us.
The new judge, Ariadna Pragmata, is a well-known judge in her region of origin, Oriensos. Born in 4328, she advanced quickly in the judicial system, thanks to her high skills and her love for her duties. Those who know her say that she's a very serious person, with a special sense of humour, and who takes each case very seriously and focused. A follower of the broken window theory, she is classified as a progressist, however as soon as she was announced, she was said to be the possible only conservative vote sometimes in the court.