Vanuku Strengthens Its Security Operations Overseas
More Land and Naval Forces Deployed As Part Of Wider Defence, Training and Peacekeeping Programme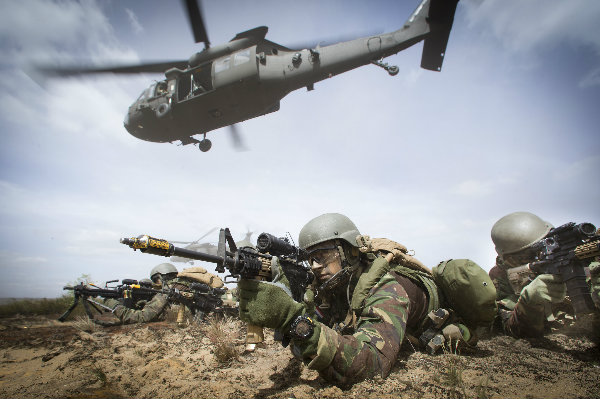 Vanukean Rapid Response Troops, Which Are Ready To Embark For Keymon.
December 4525 - Vanuku's military presence has been beefed up in two key theatres around Terra as part of peacekeeping and security operations.
The MoD confirmed that a full division of troops was to be stationed in Keymon as part of ongoing military exercises and link-ups between the two nations. In addition, two airforce fighter squadrons are to be relocated to airfields on the island nation.
It is believed the troop formation will consist of two Rapid Response Brigades - Vanuku's latest versatile and multi-faceted military units which allows effective combined arms deployment at short notice and under quasi-independent command.
In addition, Vanuku has announced that it will be sending the Third nuclear Carrier Fleet to take up position in the eastern Anantonese Ocean and its marginal seas - but technically will be touring a stretch of international waters between Dankuk in the north of Dovani to Lourenne in the south.
The MoD confirmed that the Third Fleet would be spearheading MOOTW (Military Operations Other Than War) and would focus on deterring conflict and building relations with Dovani nations and assisting with development and security programmes in the third world. Vanuku's presence will be a direct mirroring of Kazulia's position in the Majatran Sea. The Kazulian first fleet remains in that theatre on similar MOOTW duties.
Meanwhile, Vanuku's Fourth Fleet remains in position near to entrance of the Ananto Straits from where it will continue to monitor the Kalistani Civil War and deter aggression and piracy in the hotly-disputed body of water.
Work On Space Station Module Commences
In other news, the Vanukean national space agency, Wrnukék Baotaghe Klarz (WBK) has started work on its section of a new $200 billion international space station. The module will form part of the Hermes Space Station - which is being jointly developed by Vanuku, Kazulia, Hutori, Dorvik and Lourenne through the Arcadia Programme.
The programme is seen as a way of strengthening relations between the nations and could eventually lead to a manned mission to the moon involving the five nations.