Peace Deal Reached
May 4383
Congress has ratified the negotiated ceasefire which bring to an end the Egelion Civil War. The
deal reached between the government and opposition parties
was ratified with 112 votes in favour and 8 abstentions. The League and Communists were able to ensure that all of their elected Congressman backed the deal despite opposition from hardliners in both parties.
The deal bring about a general ceasefire, established the criteria for a government consisting of representatives from all parties with representatives in Congress, works to civilianise the police, disbands the pro-government Civil Guard and disarms the various Communist militia groups. The deal is believed to be supported by most Egelion citizens, although pro and anti-government hardliners talk of a "sell out" with members of the pro-Government Civil Guard believing they've been punished for supporting the Rule of Law, while Communists groups believe the Communist leadership have accepted the creation of a pro-capitalist, pro-fascist state in Egelion.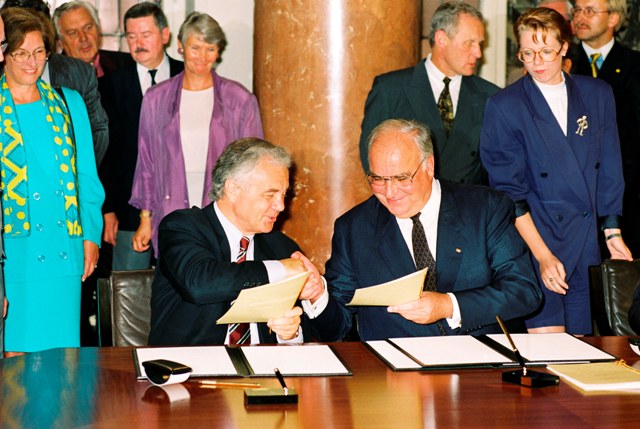 Congressional leaders signing the ceasefire agreement.
The full costs of the conflict have not yet been assessed. Even the casualty count differs wildly between government estimates of 150,000 and Communists estimates of up to a million "killed or disappeared". The fighting has solidified the country into extremes with the Communists and the League continuing to be the two most popular parties in the country, with the League dominating government for the last seven years.