____________________________________________________________________________________________
28 October 4481
Chairwoman Hana Pastora de Santiago Passes Away at 78
____________________________________________________________________________________________
PORT RHYNACH:
News broke early this morning that the Federal Chairwoman Hana Pastora de Santiago, aged 78, passed away peacefully in her sleep during the overnight hours. De Santiago, a former premier and the founder of the second Dranian Federation, has without a doubt been the most iconic figure in Dranian politics over the past century. Her fight for democracy and human rights won international recognition and beyond just her positive impact on domestic affairs, de Santiago led efforts to drastically improve foreign relations with Kazulia and Indrala. She would go on to receive the Order of Luminous Jade and Order of Friendship from the State of Indrala. Alongside Chief Minister Wei Jianxing, de Santiago would also found the Council of Localities for International Cooperation, establishing an international vehicle for coordination of "sister city" agreements. De Santiago would retire from politics in 4467, but still enjoying widespread popularity, she would be drawn back to government following a national petition calling for her to lead the Federal Council for Unity. In 4474, de Santiago would be elected as Federal Chairwoman and she was re-elected just this past year.
Still only a few hours since the initial announcement of her passing, there has been an outpouring of grief all across Dankuk. At the Federal Estate in Port Rhynach, a growing mass of flowers and notes have appeared at the front gate and a similar scene has been reported at de Santiago's personal residence in Iglesia Mayor. Premier Ryouichi Mangjuhl expressed his condolences for the de Santiago family and highlighted the enormous impact that she had on the nation and its people. The federal government has declared a period of mourning and plans are soon to be in the works for de Santiago's funeral in Iglesia Mayor.
____________________________________________________________________________________________
31 October 4481
Thousands Line Streets to Witness De Santiago Funeral
____________________________________________________________________________________________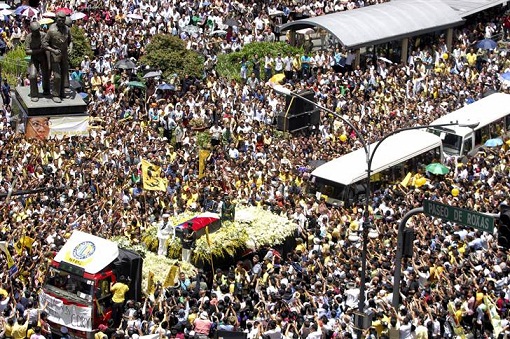 IGLESIA MAYOR:
After laying in state at the central cathedral of Iglesia Mayor, the casket of Hana Pastora de Santiago was transported to its final resting place. As the remains of the founding figure were transported across the city, thousands lined the streets to witness the event. Her funeral in Hosian tradition, a requiem mass was officiated by the Archbishop of Ulbrach and featured numerous songs and hymns reflecting cultural heritage and democratic revolution. Attended by family members, countless government officials, cultural monarchs, and others, the funeral was a grand affair and de Santiago was granted full military honors. At her final resting place, in accordance with de Santiago's wishes, her grave marker features a simple, gray plaque bearing her name, and date of birth and death.