The Zhijia Star is a regional weekly newspaper in Jiaozhi. Subsidiary of the FangCaiRyeo Group.
Terrorist Plot Foiled
4 December 4439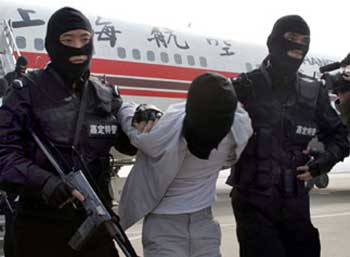 Authorities in Tian'an and Kaizhou have thwarted a major terrorist plot aimed at numerous locations in Zhijia City, as well as the Ministry of Trade & Commerce in the national capital. Provided with substantial evidence from a man going by the name of Tsoi Jiyong, the Sampa Society was uncovered in this plot to eliminate members of the Lü Clan and others closely associated with the family. Additionally, information provided by Tsoi confirmed Sampa responsibility for the attack on the Green Palace. Currently Tsoi is in police custody as he continues to be questioned for his knowledge of these anti-Lü plots.
Tsoi, also revealed as the caller that warned of the Jugang attack, has brought even further intrigue to these attempts to assassinate members of the Lü Clan. Although currently unconfirmed to the public by police, Tsoi, a citizen of Dalibor, claims to be one of two sons of the controversial Ryeo Hajun. Tsoi states that he and his brother, having been only five at the time of their father's death, had been taken in by the Sampa Society and raised by the organization to eventually lay claim to the House of Ryeo and to lead in the cult's vision for Ryeo dominance. Under the Tsoi alias, Tsoi was targeted for Indrala, gaining admission to Haejo Imperial College in 4439. His brother, whose name remains unknown, is believed to be in Dalibor with Sampa leadership on the island.
Not fully understanding the entire cause behind the Sampa Society leadership, Tsoi held a positive view of the organization prior to his arrival in Indrala. Despite early suspicions among the public regarding Sampa's involvement in the death of Lü Minho, Tsoi uphold his loyalty to his adopted family, viewing such suspicions as baseless conspiracy and a misunderstanding of the "noble vision" of the Sampa Society. Indeed, as far as Tsoi had been made aware in his indoctrinated childhood, Sampa was a noble organization.
Few details have been provided but it is believed that at least a dozen members of the Sampa Society have been arrested as a result of this plot.
--
A Daliborian international student attending university in Jugang, Tsoi Jiyong has found national attention for his role in preventing the 2 December terrorist plot and, as we now know, his responsibility for warning of the Green Palace attack. Although raised by the Sampa Society cult, being prepped as a future leader for their radical cause, Tsoi turned against his "family" in favor of stopping mass violence. In the weeks since the foiled plot, more details have emerged about Tsoi, his life in Indrala, and the events that led to his rejection of Sampa.
After beginning his program at Haejo Imperial College, a strange fate brought Tsoi into contact with another international student, Sun Yumi of Sekowo. This would prove a significant contributor to the turning point for Tsoi and his worldview as he found himself in love with the daughter of the patriarch of the Ryeo's ancient allies, the Sun Family of Dankuk. The Sun-Ryeo alliance which forged the Kyo Defense Force, that led a nation, and that shared in nobility, once again found itself back into relevancy, millenia later. Whether actual fate or just an accident, Sun and Tsoi found themselves in each other's company without even an initial realization of their ancient connections.
Tsoi's direct connections to the Sampa Society were not something he shared but through his relationship, Tsoi found one person who he opened up to with this secret. For Sun, that reveal of having such close connections with this cult, invoked a suspicion in Sun that her boyfriend was much more than a Kyo-Daliborian orphan. Pressing Tsoi on these thoughts, Sun was able to learn the deeper secret: Tsoi's identity as the supposed son of Ryeo Hajun. Sun closely held on to this secret with Tsoi and took on a personal objective of breaking down Tsoi's indoctrination. Aware of her family's ancient alliance with the Ryeo, Sun dug into her own history as she sought to deconstruct the Sampa propaganda that had been rooted into Tsoi. Combined with her genuine personal connection with Tsoi, Sun saw Tsoi breaking from the cult's grasp and embracing his own freedom in Indrala. It became clear to Tsoi that his noble organization was a cult with his very self at the center as an intended god-emperor of the future.
The Sampa Society has been quick to disown its association with Jiyong, branding him as having succumb to Lü manipulation and propaganda of the liberal Indralan state. However, this initial statement was revoked and then replaced by a claim that Jiyong is a fraud, bearing no relationship to the Ryeo family. With his brother having failed his duty in Indrala, Jiwoo is likely at the center of the cult's agenda for perfecting its god-emperor. However, Jiyong has not been forgotten and surely he has taken priority at the top of the hit list for Sampa's continued goal of eliminating the traitors of the apparent Ryeo legacy. It is safe to say though, that Sampa's failed attack and the arrest of numerous members may lead to their demise before they ever manage to pull together another major plot on Indralan soil.