HDV gears up for May elections with Goddestreu-Heumayr tandem
January 4413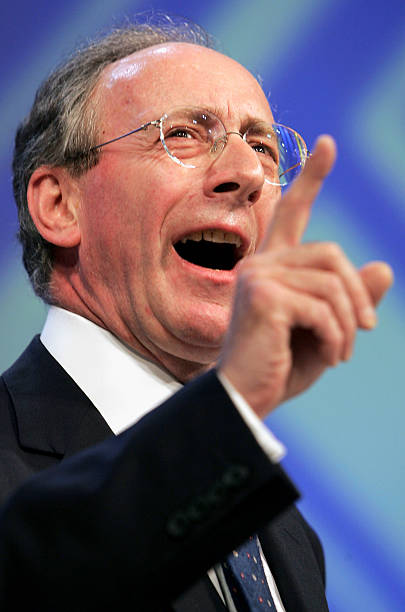 Finance Minister Bürggraf Goddestreu in many aspects has eclipsed Staatsminister Clemens Heumayr in popularity after engineering economic recovery in the Crownlands
Syakusen-Graaffsberg, Mitrania
- At its party conference in Syakusen-Graaffsberg, the HDV is exhibiting high levels of self-confidence to match the newly found confidence of the Crownlands. The party leader, Clemens Heumayr, and its most high-profile minister, Severin Goddestreu, the Bürggraf Goddestreu, were given a hero's welcome for their 8-year long effort to revitalise the Crownlands' economic and international stature. As Hulstria and Gao-Soto's economy and international stature grows, prompting talk of a
"Phoenix miracle"
in bringing the previously war-ravaged and unstable country back into growth, the HDV seems to be confident that it can cash in on the successes of 8 years in government. The location in Syakusen-Graaffsberg, where the creative and technological enterprises are returning fast following the return of big players like Tenkoun to the area, is a symbolic choice, showcasing the achievement.
Indeed, there isn't a single poll that doesn't have the HDV ahead. Still, with the rise of the Labour Party and the entry into politics of the new Progressive Party, it remains the question to what extent the Hosian Democrats can hold on to their dominance in the Diet. Principal question, even if plurality for the HDV is not really in doubt, is whether the Hosian Democrats will again get a majority to rule alone, or whether the loss of control of the Länderrat to Labour last election will presage a minority position in the lower house as well. HDV leader and incumbent Staatsminister Clemens Heumayr seemed unconcerned with either scenario, claiming that
"majority rule is the exception in our country and we will be glad to look for partners to continue our work if that is the job we're set to do."
In such a scenario, it does not seem unlikely that either Heumayr or Severin Goddestreu will return to lead the party as Klubobmann, while the other serves as Staatsminister.
The Bürggraf Goddestreu himself remained characteristically witty and ironic about his role in returning the country to some semblance of prosperity:
"I do think there's more to it than my agence. I didn't just go: "Tasyumon, I choose you!" and poof, Tenkoun came back. What has been achieved here is really the achievement of all those Crownlanders, their energy, their willingness to cooperate and their creativity. It's they that are the phoenix here, and we will do everything we can to keep it bright and blazing."
Staatsminister Heumayr echoed the sentiment, focusing on the assertive role the Crownlands were playing in Dovani:
"Later this year, I hope to host the leaders of all Dovani economies in St. Anton to bring our continent closer together. But I'll say this: I've been privileged to showcase all we have to offer, proud to have served, and I am confident that, with all your help, we will be rewarded."
The HDV renominated Governor-General the Vizegraf von Geraniengau zu Hortensiengau for a third term.