Are we witnessing the revival of Kaoism?
ISHINAWA
- Kaoism is a political ideology with more than 2 thousand years. It was first and last adopted by a political party in 2282. Axis Mundi Zen Collective was its name. The ideology is called "compassionate socialism", "enlightened socialism" or "Socialism with Daenist characteristics". While there's still parties that share the views of Kaoism, there's no party publicly supporting the ideology and adopting it as its own. However, that may be coming to an end. Change is trying to revive the ideology that many thought was almost dead. While it hasn't officialy adopted it as its main ideology, it has been addressing it and saying Kaoism is deeply present in the party's manifesto and the principles that guide it. "The 5 Principles of Aapo" have according to the party some inspiration coming from the ideology.
Among the people of Sekowo, the ideology is mostly unknown but there are some voices in favour of it. There's even a political organization called "Kaomist Revival Group". Its leader, Katsu Fujita, talked with us about Kaoism and what people think of it and their work to advance the ideology "Kaoism is an ideology of peace, of respect for life, of equality, of justice, of freedom. That's what we are about, that's what we defend. We can't say there's currently a Kaomist party in Sekowo however Change has been trying to go into that direction however I believe that only when they have the guts to oppose the defence industry, the killing of animals and the profits made by some in healthcare and education, they can truly be Kaomist. And I think it would be good for them to go further in that direction because people while not still aware enough of this ideology, they are starting to take notice and I'm hearing quite positive views. Many people we talk to say they are sick of the current system, for them, capitalism hasn't worked and it's time to move forward and change the system. We need people in power willing to do that. We are working very hard to make that happen, to elect people who are going to fight for the working class of this country and move us away from this destructive capitalist system and implement the socialist system we need".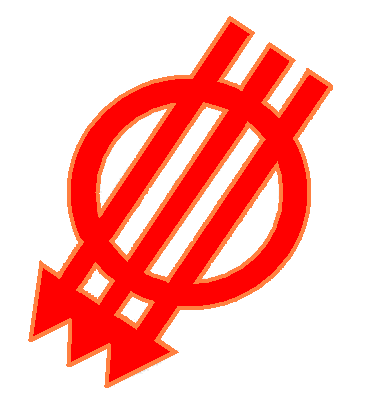 The official symbol of Kaoism