____________________________________________________________________________________________
President Lau Resigns, VP Yuen Rises to the Top
Unpopular and ineffective executive orders incited great public anger against Lau
8 March 4487
____________________________________________________________________________________________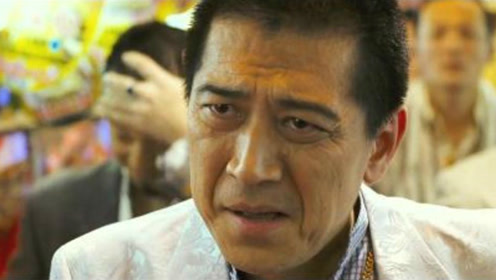 Vice President Yuen Yu
Dalibor City, Dalibor:
Disgraced President Lau Hong has officially announced his resignation today, putting an end to one-year of disharmonious policies that have caused major unrest throughout the capital and a rise in violent crime targeting every day citizens. A fierce campaign was launched against President Lau only a matter of weeks into his tenure, a reaction to his quick implementation of misguided anti-corruption and intellectual property laws that only sought to entrench his personal power at the expense of the people. Backed by the Tian Long Tong Triad, opponents of the president, including the Mayor of Dalibor City, effectively crippled the power of the executive and President Lau's laws have gone completely unenforced all across the island. And now, finally after ten months of disputes with Dalibor City leaders and a continually dropping approval rating, Lau has stepped down from the presidency, handing over leadership to the legislature-elected vice president, Yuen Yu.
Taking on the role of Acting President, Yuen is a long-time business leader in Dalibor City, formerly leading the regional office for Lim Son Ah Properties before moving on to become Vice President of the Bank of Gangzhou, one of the nation's leading financial institutions. Through numerous partnerships with community leaders, Yuen has expanded lending access for citizens of the Outlands and has been a strong advocate for widespread aggressive economic development. Yuen has a clear interest in continuing in the presidency in an official role come next elections and he plans to immediately get to work upon taking office today.
At the top of Yuen's agenda is a complete repeal of his predecessor's meaningless executive orders and from there, President Yuen has prioritized port expansion in Dalibor City in order to facilitate greater export of goods to neighboring nations. On the domestic front, Yuen hopes to work with the Legislative Assembly to craft more business-friendly labor laws that will open up new economic opportunities for all people, especially the underprivileged people of the Outlands. Additionally, with Lau's absurd intellectual property law thrown out, businesses have already been able to put confidence in their ability to move operate at their full potential and produce goods that will be highly competitive in export markets.
____________________________________________________________________________________________
Dalibor Daily News is a subsidiary of The Dalibor Company.