The Deltarian
The Deltarian is the national Newspaper of Deltaria and gives you the news that matters right on your doorstep
________________________________________________________________________________________________________________________
January 12th 4441
New constitution reportedly ready
After 3 months of writing the constitution The Deltarian has exclusive acces to the first details of the new constitution
________________________________________________________________________________________________________________________
Just 1 month before the elections The Deltarian can report that the new constitution is almost completely ready and that we have exclusive access to some of its details.
First of all the new constitution shall grant every region its own seperate republic. These republics will have autonomy on most matters except foreign affairs, defense and federal law. This will make Deltaria a hyper autonomous state with 5 autonomous republics in it. Because of this change in autonomy for the states the name of the country shall be changed to the "Grand Republic of Deltaria". The government of the grand republic shall be led by a directly elected "Grand Governor" who will chair the cabinet and be the HoS. While the republics will have great autonomy the federal government can still create laws that overlap the seperate republics laws. The federal government also imposes a general economic policy, while republics can divert from this policy in some degree the main policy has to be adhered to.
According to some a Supreme Court shall also be created consisting out of 5 Thallers as a compromise between the Thallers and SDLS/Bright Star Movement.
With this new constitution the name of the parliament will also be changed to the name of "Federal Congress"
All this combined will give the regions of Deltaria significantly more autonomy with the constitution even allowing the republics to choose between a parliamentary and presidential democracy with more options on the table. Experts say that if this constitution passes the newly granted autonomy will skyrocket local economies as they can now specialize their policy on the actual situation far better. Many are enthusiastic on the release of parts of the constitution and look forward to its implementation.
With the elections very close we will see if the SDLS and their allies are rewarded for this new constitution.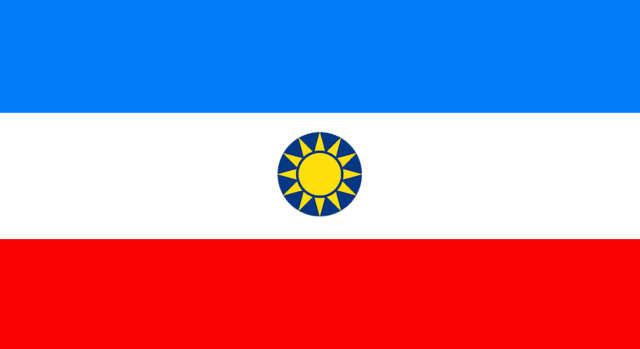 Sources suggest that the old Grand Republican flag will be used once more as the new flag of Deltaria with the only adjustment being the dark blue around the sun meaning the revival of the republic