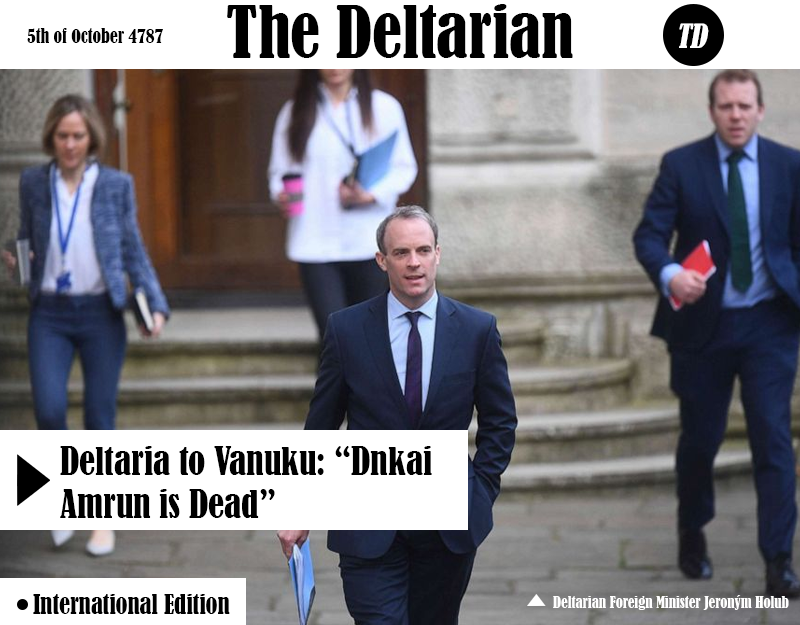 OOC Source: Reddit
Cahtice:
Deltarian Foreign Minister Jeroným Holub has, in response to Vanukean requests for details on one of their citizens, released a statement saying, "Dnkai Amrun has, after extensive investigation, been confirmed as the one death on board of the hijacked plane during the ZNZS intervention. Amrun was shot in the head in a hail of bullets coming from the AKS submachine gun of one of the terrorists. He was also struck in the chest and neck by the gunfire. We give our deepest sympathy and condolences to the family of Dnkai Amrun and the Vanukean state. My foreign ministry has arranged for the Vanukean state to retrieve the body of Amrun and we welcome them to do so so he can finally be put to rest."
On the question why it took so long to identify Amrun minister Holub stated that, "The scene was chaotic when it was over. We retrieved the body and first brought it to the medical bay on the base to be examined. When we found out that we didnt have the appropriate equipment for a full examination we transported the body back to Deltaria where we eventualy came to the conclusion that it was indeed the body of mr Amrun." The foreign minister denied any wrongdoing on the part of Deltaria. When asked about Vanukean suspicions that Amrun was held captive for information the minister stated, "The idea that Deltaria would hold captive a man that was tortured by terrorists and had to undergo severe stress and tension is out of this world. Deltaria did what needed to be done and acted to resolve the situation and not let the terrorists go unpunished for their deeds. We again hand our condolences to mr Amrun his family and hope that they will be able to process the immense loss."
It is unclear when the Vanukean state will pick up the body of Amrun, which is currently held in a cooling cell on the Cahtice International Airport, ready for transport. According to inside sources both ears of the victim in question were cut off, further confirming it is mr Amrun.